It has become somewhat of a tradition to have a daytrip sometime during Akademy. This year, the daytrip will be on Wednesday, September 10th in the afternoon and evening. Akademy attendees who want a change of scene are invited to this Adventure at Brno Reservoir. There won't be any BoFs on Wednesday afternoon.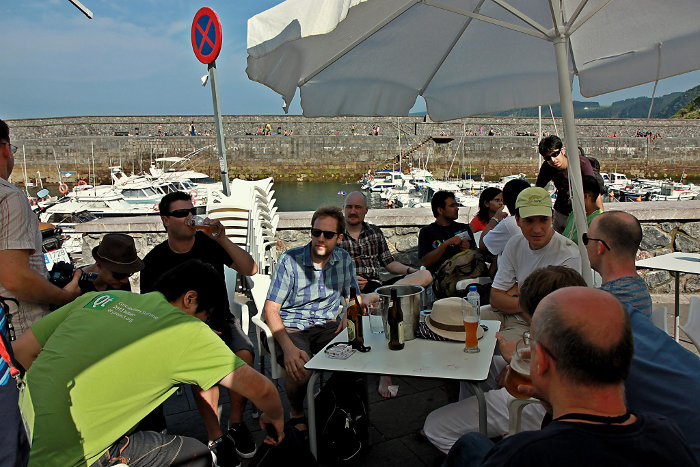 Just relax!
by Martin Klapetek (
CC BY
)
.
Brno Reservoir
Brno Reservoir is a popular recreational area with both locals and visitors. Both sides of the lake are forested; there are opportunities for swimming (for brave souls), water sports, hiking and cycling. The Veveří Castle is a popular destination. There is a bridge for cyclists and hikers over the Reservoir close to the Castle (map). In addition there are numerous bars and cafes around the Reservoir. Take a trip back in time with a ferry boat ride to the quaint town of Veverská Bítýška. The ferry (timetable and map PDF) also goes to the Castle (depart at the "Hrad Veveří" stop). People should plan their own picnic-type games and activities...football, catch, Frisbee, hiking.
In the early evening, the group will gather at the bottom of the Reservoir for picnics and barbecue. There is a supermarket next to the tram stop at Přístaviště (the Píškova location) for people to buy supplies. Akademy will provide BBQ cookers, charcoal and cooking implements.
Join the adventure at Brno Reservoir, a perfect outing for grassroots friends.
Brno Reservoir
Getting there
Where's the Rez? Take bus 53 to "Technologický Park" and change to tram 12. At "Konečného náměstí", change to tram x3 in direction "Rakovecká". Get out at station "Přístaviště". From there, it's a 5 minute walk to the Reservoir.
For a different adventure, take bus 53 to "Skácelova" (direction "Semilasso"), change to bus 30 (direction "Bystrc"). At "Podlesí", change to tram x3 and depart at "Přístaviště".
Daytrippers should make their own transportation arrangements and purchase tickets. There is no set itinerary; transportation will not be provided by Akademy.
No BoFs on Wednesday afternoon
There won't be any BoFs on Wednesday afternoon, but they can be scheduled Wednesday morning until 12:30.
---